May 2017
Off to a Slow Start
Spring is always an anxious time as we get ready for race season to begin. Steve put the finishing touches on the car and we fired it up at home, making sure the timing was set and there were no leaks. We then loaded the car in the trailer and waited for a chance to go testing. Our first race was scheduled for May 12-13, 500 miles away in St. Louis. The plan was to make a couple of passes down the track, just to be sure everything was good to go. Unfortunately, it was a cold and rainy spring and we simply ran out of time. The last opportunity was on Wednesday, the night before we were to leave for our race. So it was decided, we would pack up and drive to Milan to test. If all went well, we would leave in the morning from the track and head on to St. Louis.
Well, all didn't go well. As we were warming up the car in the pits before our first run, the oil pump let go and suddenly we had oil pouring out everywhere. We use a diaper and pan to catch leaks but when the oil is under 120 lbs of pressure and it pushes the O-rings out of the pump, well, let's just say we had a mess to clean up. There was 18 qts of oil filling the pan and overflowing on the ground.
At this point the only choice we had was to head for home and order new parts. Steve could put everything back together once he had the parts, but by then the race would be over. This was not Steve's fault at all. The pump had been sent out for a rebuild and the nuts holding it together just gave up. This is why testing is so important. It's a good thing we didn't drive all that way to St. Louis just to have this happen when we got there. I can't help but be grateful it happened on the warm up, and not a little later while I was under power and going down the track.
After cleaning up the car and the pits, we were glad we had

Uncle Earls

along to get our hands clean.
June, 2017
8th Annual Detroit Dragway Reunion
Milan Dragway, Milan, MI
Fast forward a month to our second scheduled race, the Detroit Dragway Reunion on June 10th. It was an almost perfect day with clear skies and plenty of sunshine. Hundreds of cars and thousands of spectators came out to enjoy one of Milan Dragway's biggest events of the year. The lineup included a full field of bracket racers plus gassers, old style dragsters and altereds, alcohol funny cars, and even a couple of nitro funny cars. The racing started early and ran all day, treating the fans to smoky burnouts, high speed action, and even a few 200 mph passes.
Photo credits to Tom Turrill and Mike Grosso.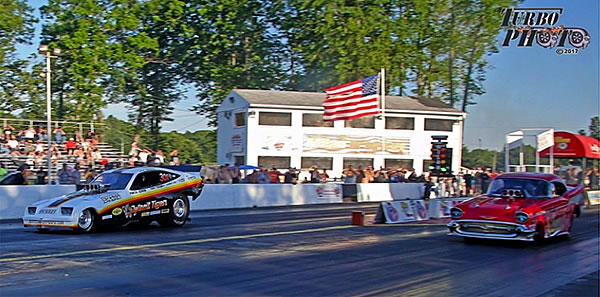 Susie Q was just one of six Nostalgia Alcohol Funny Cars there for the show. The others included Bill Hallet with his Red Barn Cuda, Nick Tilley in the Shyster Corvette, Monty Stotz in the Blue Thunder Camaro, Gordy Veal in his Motor City Charger, and Steve Timoszyk driving his Detroit Tiger Monza. It was about noon when we made our first pass. It was a sunny 85 degrees with a corrected altitude around 3000 feet. Right off the starting line, I spun the tires a little, then shifted early, but still made a pretty good pass, 7.08 seconds at 197 mph. Our next pass was around 4:30 in the afternoon. Conditions were about the same and this time I went a little quicker, 6.94 seconds but only 192 mph. It should have been a little quicker but I lifted just a little early. Still, it was quick enough be in the top two and qualify for Chicago style finals. I would be racing against Steve Timoszyk in his beautifully restored Detroit Tiger funny car
This would be a rematch of last year's race. We faced each other in the finals and I won. This was going to be a good race. I knew Timoszyk really want to win this one and he had been making some good passes. We lined up in the staging lanes around 7:30 and had us as the last pair of funny cars to run. Temperatures had cooled a little and the track had been pretty good all day. It should have been a great race but for whatever reason, I was not at my best. He got a head start right at the hit, and then when I reached for the button to shift, I accidently bumped the trans brake button. That put an abrupt end to my race and Timoszyk went on to make an amazing pass at 6.73 seconds and 201 mph.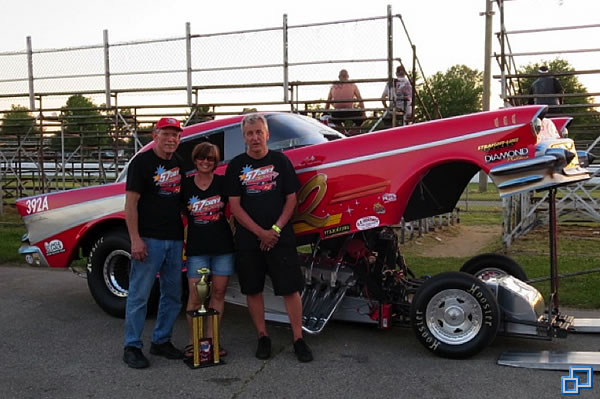 Over all, it was a good weekend, in spite of the transmission problems. Thanks to Steve and Norm, we still ended up with the runner–up Trophy.
We were able to meet up with lots of longtime friends and make some new ones. Once we were home Steve was able to access the damage. It was a lot of work but far less repair than was expected. The transmission is back together with a new clutch pack and everything is good to go for our next race.
Pictures from the Pits
| | | | | |
| --- | --- | --- | --- | --- |
| Della Woods, a famous local Funny Car Driver, and someone I've admired for years stopped by to say hello. | | This is Brooklyn, granddaughter of Terry Suetterlin, a friend and competitor from our bracket racing days. Terry is one of the true alumni of the old Detroit Dragway. | | Another Detroit Dragway alumni, George DeLorean, has been friend for many years and it's always a treat when he comes by to visit. |
Courtesy of a special race fan and collector, I had a chance to try on a real vintage fire suit that would have been worn in the very early years of drag racing. This was an original, made by Simpson back in the 60's. Boots, gloves, face mask, goggles, and Bell Helmet, all designed to protect the driver in case of a fire. It looks impressive, but it was stiff, rather uncomfortable and my vision was limited. It was fun to get dressed up but thankfully fire suits have come a long way since then. Big thanks to Mike Grosso for taking for a little photo shoot.
Our next stop is with the NDRL at the Blue Suede Cruise at Summit Motorsports Park in Norwalk, OH, July 14-16, 2017. Come on out and see us.
Susie Q
May, 2017 - Pre-Season Update
Sponsor News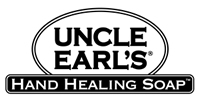 Great News! Uncle Earl's Hand Healing Soap is on board once again as a major sponsor for the 2017 season. They've been with us since we first started racing the Susie Q Funny Car in 2011. Not only do we appreciate their continued support, but we love using their products and enjoy being their ambassadors.
Uncle Earl's can clean the dirtiest hands better than anything we've tried. It was developed for machinists and mechanics so it's made to clean up even the toughest dirt. It comes in bar, liquid and foam; made with all-natural ingredients that penetrates deep into the skin, moisturizing and healing cracked damaged hands. We use it every day, in the shop, at home, and especially at the race track. Find us at the races and you'll find Uncle Earl's.
Susie Q T-shirts. New! On Sale Now!
We recently took delivery of brand new T-shirts from Shirt Works, located in Gaylord, MI. They gave us an awesome design and print job and we can't wait to share these with all our fans. Shirts are available in both black and white, in men's, ladies V-neck, and kids sizes. Stop by our pits at any of our events this summer to get one of these awesome T-Shirts.
| | |
| --- | --- |
| Back | Front |
Shop News: It's a Race Against Time
Long before a team ever gets to the track for the first event of the season, another race is underway. In the Christophersen race shop, the off season involves a complete tear down of the motor and transmission, analyzing wear and tear on parts and deciding what can be reused and what needs to be replaced.
So much goes into this effort that it's impossible to document it all. So just for those who are interested, I've tried to capture a few of the steps involved in getting the powertrain ready for another season of racing.
| | |
| --- | --- |
| Checking torque converter internal end play. | Lencodrive ready to go. |
Although we had no issues with the Lencodrive last summer, it still went on the bench for a thorough inspection. All it needed was some new bearings, new clutches and steels to be ready for another race season.
We'd been running the same Diamond pistons for three years so it was time for a refresh. The motor got a hone job, new

Diamond Pistons

and new rings from

Total Seal

.

The heads went to

Total Flow

to have the valves and seats tuned up.
| | |
| --- | --- |
| Checking valve timing | Measuring bell housing run out |
Everything was going back together just fine until Steve ran into this one little problem. Last winter, when disassembling the engine, Steve discovered a broken main cap. There just aren't many parts on the shelf for this vintage JP-1 block and he ended up having to find someone to make it. Pro-Gram Engineering helped us out, but a new main cap meant the block had to be line bored and honed. All this was done a while ago and it wasn't until he tried to put the front cover on and turn the motor over that he discovered the problem. When the engine was line bored, it changed the geometry between the crank, the cam and the idler gear just enough to cause things to bind. It took buying several extra parts, waiting for delivery from the west coast, and some fancy machine work by Mr. Fix It (Steve) to finally get things right. Unfortunately, that ordeal put us about two weeks behind schedule.
The 8-71 Kobelco Blower went to Fowler Engines in Columbus, OH, for service over the winter and is sitting back atop our blown alcohol Hemi.

The ignition went to Bob Wyman at System 1 Pro Ignition It has been checked and serviced and ready to install.

Susie Q's new designer shoes – from Hoosier. It's best to start the season with fresh tires, even if the old ones aren't completely worn out. Each tire has to get mounted and balanced before they go back on the car.
As for the trailer, getting it ready for another season was more involved than expected. Besides the normal service to the wheel bearing and brakes, Steve had to make some repairs the frame. It seems the many miles and rough roads we travel have taken their toll.
Thank goodness for Steve's many talents, ingenuity and determination. I help where I can, but Steve does most all of the work. I can't begin to measure all the hours he spends and how much work it is, just so we can go really fast for just a few seconds. Thank you Steve.
If all goes as planned, we should be able to fire the motor this week. Now if Mother Nature will just cooperate maybe we will have at least one day at the track for testing before we leave for our first race. It's our first points race with the NDRL, May 12-13, at Gateway Motorsports Park. Check back for race updates in a few weeks. Wish us luck and thanks for following.
Susie Q