About Christophersen Racing
The Christophersen's live in Clarkston, Michigan. They have been racing since the early 1990's, when they were part of the "Doll-Fox-Christophersen Team" that ran a '82 Camaro at the Bonneville Salt Flats. During the 14 years that they were land speed racing, their Team set 13 records, with Steve setting 6 of them. Steve became a member of the famed Bonneville 200 MPH Club in 1991 and Sue became a member 1998.
Sue and Steve started racing their Spitzer dragster in 1994, after completing a three-day course at Frank Hawley's Drag Racing School. The dragster is a 225" Spitzer chassis powered by a 542 ci big block Chevy with a Power-Glide. It runs in the mid 7's at 175 mph. Sue is the primary driver and Steve is engine builder, fabricator and crew chief. They are regulars at Milan Dragway, with an occasional win and a top 10 finish in Super Pro points in both 2009 and 2010.
During the winter of 2010/2011 they put together a '57 Chevy nostalgia funny car, the Susie Q. Sue spent the following summer learning to drive the new race car while Steve got up to speed on the tuning. The Susie Q runs in the low 7's, at over 185 mph and will be making appearances at various nostalgia races or cars shows around Michigan and neighboring states.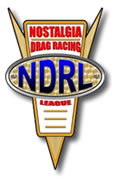 Steve and Sue are members of the NDRL (Nostalgia Drag Racing League) and compete in 7.0 second class. In 2013, they finished 7th in points and are hoping to improve on this in coming season.
Check out our race schedule for a listing of our up coming events.